Minoring in Twitter: Cartwheels, cookies, crawfish and snow
By Danny Wild / MiLB.com
Not sure what's more authentically Minor League about this photo: the guy doing a failed (but somewhat impressive) cartwheel, or the classic white plastic lawn chairs they're using to set up this team photo:
My cartwheel form needs a little work. @BeloitSnappers #teampicture pic.twitter.com/8lKLWdrqc1

— Ryan Mathews (@RMath13) May 4, 2014
Jacksonville manager Andy Barkett doesn't mind a little road trip, as long as it's to Montgomery, a place that apparently never has a shortage of the rare Golden Double Stuf Oreos (Related facts: MLB.com and MiLB.com are operated out of the original Oreo cookie factory in New York City, and one of our editors often goes on missions throughout New Jersey to find the newest and most exotic of Oreo flavors).
Best part of coming to Montgomery. Unlimited supply of these. Been good so far, but getting the… http://t.co/dTg4bXxr8i — Andy Barkett (@abarkett17) May 8, 2014
Fighting urge not to absolutely crush Vanilla Double Stuff Oreos in the Montgomery Clubhouse. So good w/coffee/milk. No shot to abstain. — Andy Barkett (@abarkett17) May 8, 2014
White Sox prospect Micah Johnson is fast, both on the basepaths and in NHL 14:
Like when I laugh when u try n play me n NHL?"@JCasey13: Can't wait to laugh at whichever team drafts Manziel in the first round" — Micah Johnson (@Micah_Johnson3) May 8, 2014
Omaha's Brett Eibner, perhaps a Game of Thrones fan:
Yup.. Getting a wolf puppy — Brett Eibner (@Brett_Eibner) May 8, 2014
Best known for women's yoga pants (some of which had to be recalled), Lululemon is seeing its brand expand to ballplayers like the Rockies' David Dahl:
I could wear lulu all day everyday #socomfy — David Dahl (@ddahl21) May 8, 2014
Indians top pitching prospect Trevor Bauer has a new t-shirt and wants everyone to see it. Is the epitome of Twitter? Hey, look at what I'm wearing and guess what I had for lunch?
Got the new @AthletesBrand tshirt on today. Jersey Mike's sub for lunch and I'm ready to go. Looks to be a great day! pic.twitter.com/AlvpZAn59K — Trevor Bauer (@BauerOutage) May 8, 2014
Quad Cities' Brett Phillips has a special surprise for Mrs. Phillips on Sunday (unless she has Twitter, than it's not a surprise):
Shout out to @zingerbats for the sweet Mothers Day bat! #zingerteam pic.twitter.com/Fq1jkLUD2N — Brett Phillips (@Brett_Phillips8) May 8, 2014
Poor Dean Green has his name misspelled. Little known fact — several years ago, Dean Green hit me in the face with a foul ball at Dutchess Stadium when I was taking photos, and I haven't forgotten:
This Richmond clubby is off to a great start… At least he spelled part of my name right lol http://t.co/qE4UMNlhKu — Dean Green (@GreenGiant2219) May 8, 2014
Best dressed? You decide:
Sharing a seat with the winner of the best dressed award @RHafner8610 pic.twitter.com/sOS5kDUqtW — Robby Rowland (@RobbyRow_12) May 8, 2014
Mmmm, mall food court food. Is there anything better than mall food court chinese food? China Maxx, Panda Express? Why would anyone buy those tiny Sbarro slices?
This mall got the best food court! Lol #bouttosmash #lol — Kenny Wilson (@ItsKennyWilson) May 8, 2014
Bradenton's Ryan Hafner loves free food:
Never a bad day when you get meal money — Ryan Hafner (@RHafner8610) May 8, 2014
Anything to pump you up for gametime:
Wathcing Tom & Jerry before I head to the field. #CoolFact Tom & Jerry never talk & it still hilarious — Thomas Neal (@TdaddyNeal) May 8, 2014
Adorable but not sanitary:
Please hold hands while using the restroom on this bus… pic.twitter.com/cbC7X03u75 — Anthony Capra (@acap35) May 8, 2014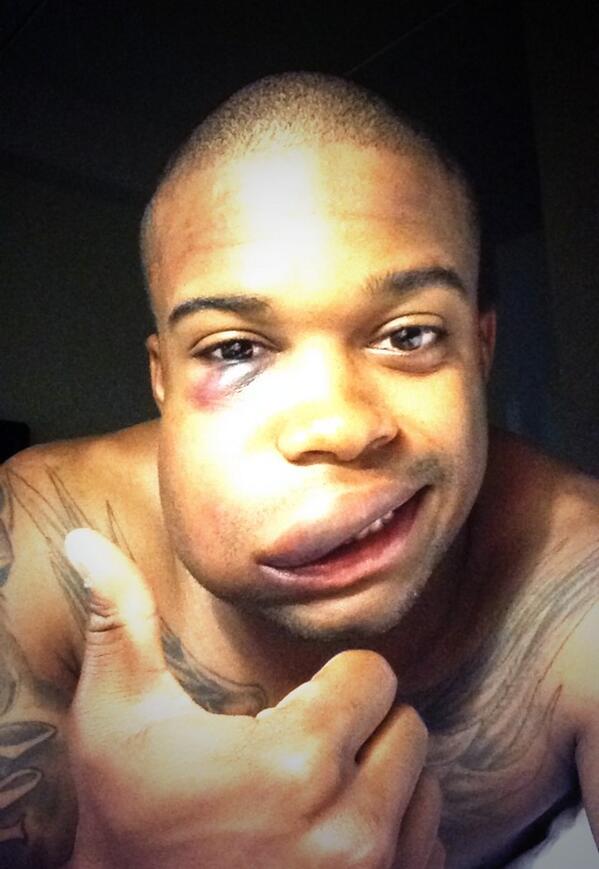 Delino DeShields Jr update: You may recall our friend Delino was smiling through the pain of getting beaned in the face. Sadly, Mr. DeShields has not posted any selfies since then, but we can still check in as he waits for the swelling to subside. The most notable news? He's totally bedridden now:
Can't. Get. Out. Of. Bed. — Delino DeShields (@LinoDeShields) May 4, 2014
But, that still allows him to watch great TV:
Game of thrones 😁😁😁 — Delino DeShields (@LinoDeShields) May 5, 2014
A guy can only lay in bed for so long, though:
I may or may not be going insane right now. — Delino DeShields (@LinoDeShields) May 8, 2014
Oh no. He's given up completely:
Sometimes the more you try the worse it gets. So I guess just stop trying. *shrugs shoulders* #willneverunderstand — Delino DeShields (@LinoDeShields) May 7, 2014
(We're kidding, he's probably totally OK. Maybe.)
Confirmed — he's OK:
Finally activated from the DL. Extremely blessed. Thank God for giving me another opportunity to wake up and play ⚾️. Te amo dios! 💯 😃

— Delino DeShields (@LinoDeShields) May 9, 2014
New Orleans reliever Josh Spence has been awesome this year (0.93 ERA), and now he's cashing in on his local fame with a literal boatload of crawfish (don't tell the folks in Hickory):
First Crawfish broil in NOLA, thank you @zephyrsbaseball pic.twitter.com/5jfQpb0uHP — Josh Spence (@joshspence) May 8, 2014
Examining Yankees prospect Mason Williams: A man of few words, Yankees No. 2 prospect Mason Williams isn't interested in using all 140 characters. And above all, he REALLY wants you to have a pleasant first-half of your day:
Good morning!! — Mason Williams (@MjordanW9) May 8, 2014
Good morning! — Mason Williams (@MjordanW9) April 28, 2014
Good morning!! — Mason Williams (@MjordanW9) April 26, 2014
Good morningg! — Mason Williams (@MjordanW9) April 13, 2014
#blessed — Mason Williams (@MjordanW9) April 15, 2014
#blessed — Mason Williams (@MjordanW9) April 23, 2014
#buslife — Mason Williams (@MjordanW9) April 24, 2014
#buslife — Mason Williams (@MjordanW9) April 10, 2014
Good morningg!! — Mason Williams (@MjordanW9) April 7, 2014
Up n at emm! — Mason Williams (@MjordanW9) April 6, 2014
OK WE GET IT.
Morning morning! — Marcus Stroman (@MStrooo7) May 8, 2014
Oh no.
Minor Leaguer and #poet:
Whatever it is, it is, what it is…. ha #poet — Aaron Brooks (@aaronbrooksKCR) May 8, 2014
Time for a new mattress?
For some reason hotel beds are just always way more comfier than your bed back at home … #suitcaselife — Nick Wittgren (@N_Witt) May 8, 2014
Free advice of the day:
You gone always have relationship problems if you keep going out with locals that everybody know — D.HENRY (@RedTeeHatHENRY) May 8, 2014
Yeah Jeets! — Jiovanni Mier (@JioMier) May 8, 2014
I hate Mosquitos soooooo much! I literally attract them left and right like no other!

— Nick Wittgren (@N_Witt) May 8, 2014
Ouch. Evan Frey plays for Colorado Springs. Any questions?
Really!? It's May! pic.twitter.com/1ybs79zIIb

— Evan Frey (@efrey14) May 8, 2014
Yeesh. Savannah right-hander Rob Whalen is on the 7-Day DL. Guess why.
Both therapy sessions since surgery have gone great! Everything's progressing well! Will be pitching again very soon! pic.twitter.com/nLUjitGcJc — Rob Whalen (@RobWhalen38) May 8, 2014
Apparently chicks don't dig scars:
My dinner date. Isn't she beautiful? pic.twitter.com/uv7Z7PZT2D

— Rob Whalen (@RobWhalen38) May 8, 2014
Phillies reliever Phillippe Aumont is a multi-sport athlete:
Hole In One at TPC Piper Glen!! Hole 17, you didnt stand a chance! Haaaa! #TPCPiperGlen #IamTiger #Noputtneeded pic.twitter.com/AKrSMHMgfV — Phillippe Aumont (@P_Aumont17) May 8, 2014
Springfield's Jonathan Rodriguez is dedicated… to something called House of Clashers:
This is my awesome base @HouseOfClashers pic.twitter.com/ZB3a9ohw9T

— Jonathan Rodriguez (@jrodri29) May 8, 2014
Corrections: Last week, we reported that Rangers prospect Luke Jackson was being kissed by a dolphin. I thought the dolphin looked a little fishy (no pun intended) and I actually google searched "types of dolphins" to make sure this was, in fact, a dolphin. I found out there are A LOT of species of dolphins, and after glancing at drawings, I assumed this was, pretty safely, a dolphin. But, Minoring in Twitter reader "Josh" says otherwise, claiming that's "a beluga whale." So we apologize to you, Josh and Luke, and to that whale that looks like a dolphin. (Although if you were a whale, wouldn't that probably be flattering to have someone mistake you for a dolphin?) Also, beluga whales are adorable! Addendum to correction: The beluga whale's street cred just sunk after this photo surfaced of one with Justin Bieber. This also diminishes Luke Jackson, too, I think:
Chipotle Tweets of the Week Cedar Rapids' Todd Van Steensel — out of the Minors since 2011 — is back, and he's trying to fit in:
Arrive at the hotel and everyone goes out to find some food. Fifteen guys came to Chipotle — Todd Van Steensel (@toddvs35) May 8, 2014
You're*
Chipotle, whatever your doing…just keep doing it — Tony Davis (@_TonyDavis_) May 8, 2014
Wow! Sleeping late over Chipotle? What is going on?!
Rainy day plus the snooze button I'm not sure if I'll even make it to chipotle. — Luke Jackson (@YaBoy77) May 8, 2014
Have you ever been to a chipotle where the line isn't out the door?

— Christopher Bostick (@leanonmeCB) May 8, 2014
Cinco de mayo Cinco de ma Cinco de Cinc Ci C Ch Chip Chipotle…?

— Trey Masek (@treymasek) May 5, 2014
Pretty sad when ur forced to get double meat on a taco…c'mon @ChipotleTweets really

— Joe D (@mryoki21) May 3, 2014
Chipotle is a must right now

— C.J Riefenhauser (@CJRief) May 5, 2014
Watching Terminator eating Chipotle #thelifefridays

— Cj Edwards (@CEdwardsSBS) May 3, 2014
Posted on May 9, 2014 at 11:30 am

Filed in:

Minoring in Twitter
Tags: Aaron Brooks, Andy Barkett, anthony capra, brett eibner, C.J Riefenhauser, chipotle, Christopher Bostick, CJ Edwards, David Dahl, Dean Green, Delino Deshields, Evan Frey, Jiovanni Mier, Jonathan Rodriguez, Josh Spence, Luke Jackson, marcus stroman, Mason Williams, Micah Johnson, Phillippe Aumont, Rob Whaler, Ryan Hafner, Ryan Mathews, Thomas Neal, Todd Van Steensel, Trevor Bauer, Trey Maset, Twitter